Welcome to my Tractor page . . .
as with all my projects it is an on-going one . . .
This is a NQS Stock Altered class tractor, based on the National Quarter Scale rules, it started "life" as a Cub Cadet Model 100 many years ago it has since been highly modified . . . the Stock Altered class is new to this part of PA. One good thing about running NQS is that you can run at almost any track in the country since it seems everyone is adopting it as their rules. Even if it isn't an NQS run pull.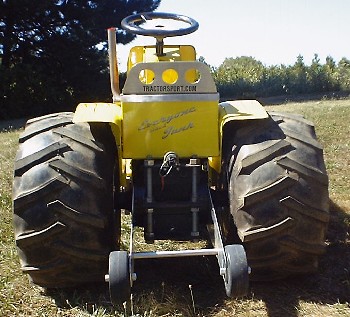 These pictures do not do the paint job justice! Feel free to email me with any questions you might have or if you are interested in building a tractor and need parts, my shop is always open to just stop by and chat also!
Older spy pics added 07/22/02
Well here are some secret spy photos of my new paint job!! Man I won't know how to act, what a far cry from what I have been running! I want to thank my buddy Bryan for the excellent paint job he did for me. I'll add more info about Bryan's business in the next coming weeks.

Well now I have a nice new paint job, all I have to do is get my act together and get the machine running as good as it looks! This "ride" was put together like the name says with "Everyone Else's Junk" parts and is by no means what I call a "Cubic $$$'s" machine. It was built on a small budget and not with a credit card, my goal is to keep it running with the "Cubic $$$" machines at the local pulls.
I run what I build, not what I bought built by someone else! I know exactly what is in this motor down to all the dimensions on the parts inside. I can take pride in the fact that its "my" machine. If I get beat, oh well I learn from it and move on. Thanks for looking at my website! If you see me at a pull, stop on over and introduce yourself.
This page last modified on 10/10/2003